ECU Preparedness Efforts for Active Threats
ECU Preparedness Efforts for Active Threats
Provided below is a summary of ECU's preparedness efforts. We also offer steps you should take to become better prepared for an active threat situation. Review and discuss the enclosed emergency instructions in staff and faculty meetings, residence hall safety meetings and other groups as appropriate. If you have any questions, please contact the ECU Police Community Affairs unit at 252-328-6787.
Let us continue our collective efforts and turn fear and concern into meaningful action through increased education, training, and preparedness.
Be INFORMED. Be PREPARED. Be SAFE.
The safety of the people on our campus is our first concern.
The ECU Police Department maintains dual accreditation through the Commission on Accreditation for Law Enforcement Agencies (CALEA) and the International Association of Campus Law Enforcement Administrators (IACLEA). This accreditation means that ECUPD has met and continues to meet high standards of professional excellence.
The ECU Police Department participates in ALERRT (Advanced Law Enforcement Rapid Response Training) training at least once a year. This is a national standard for active shooter response and is the standard for all UNC system law enforcement agencies.
This year, ECU Police conducted active assailant training scenarios in addition to annual required training such as firearms training.
We have excellent relationships with other local, state, and federal agencies. ECU Police trains with other agencies in the area to prepare for emergency situations on campus and coordinates with local, federal, and state agencies.
Students are trained in RUN. HIDE. FIGHT. during courses taken their freshmen and sophomore years with follow up, in-person trainings in residence halls and other scheduled presentations. Faculty and staff training is available through several on-demand videos on the ECU Police website, quick guides in the LiveSafe app, and in-person training via ECU Police Community Affairs (see Resource section below).
RUN. HIDE. FIGHT. –  An active assailant protocol that is easy to remember and gives people some quick and basic actions to consider for handling and surviving an assailant.
ECU Alert is a tool to help inform the campus of an active emergency. ECU Alert will be the official message for any emergency situation and provide emergency instructions to faculty, staff, and students.
ECU LiveSafe is an app that provides quick emergency guides for a variety of hazardous situations, including active assailant. LiveSafe also has a panic button and 2-way communication with ECU Police via text or voice.
RUN. HIDE. FIGHT.
If you ever find yourself in an active shooter or armed assailant event, your survival may depend on whether or not you have a plan. The plan does not have to be complicated and should be flexible. There are three things to do that can make a difference: RUN. HIDE. FIGHT. The Run. Hide. Fight. protocol provides procedures you can follow to stay safe in any scenario whether on campus or off campus. Download the LiveSafe app to always keep these instructions at your fingertips. Then, download the on-demand videos to learn how to become better prepared (See "Resources" below). Show the video in staff, faculty, and residence hall meetings to initiate discussion and review of departmental preparedness plans. For assistance, contact the ECU Police Community Affairs unit at 328-6787.
Note: If outside during an active assailant situation, move to a safe place of cover and utilize obstructions as you move. When you are away from the danger area, stay down and do not move until safe to do so; call 911 if able. Get far away from the shooting if possible. If off campus, do not attempt to come to campus. Stay away until you receive the "all clear" message on ECU Alert.
RESOURCES
Run/Hide/Fight Training Videos
Download the on-demand videos under Education and Awareness Programs on the ECU Police Community Affairs website at https://police.ecu.edu/videos/.
ECU Alert Info
Review the Run-Hide-Fight information at https://alertinfo.ecu.edu/run-hide-fight/.
ECU Alert
Sign up at for emergency text and/or email messages at alertinfo.edu.edu. Stay alert and follow the instructions provided by university officials through ECU Alert. Social media sources may not be reliable.
ECU LiveSafe App
Run/Hide/Fight instructions included under "Quick Guide for Emergencies". Download is free.
Go to App Store or Google Play, search LiveSafe
Sign up with your name and contact information
Select East Carolina University as your school
For more information, go to https://oehs.ecu.edu/emergency-management/livesafe/.
If unable to run away from the active threat, find a place to hide and secure in place.  Stay out of view from doors and windows and turn off lights in the room.  Lock or barricade the door.  There are different types of door locks on the ECU Campus.  See some of the different types below and instructions on how to operate. A systematic approach has been taken to review classroom door locks and install locks where not available or locks did not meet requirements.
Types of Classroom Door Locks on ECU Campus
This picture shows a deadbolt lock on a small classroom. It is a commercial (heavy duty) version of the same deadbolt style one would find in their home, and it operates the same way.  Simply turn the thumb latch to lock the door.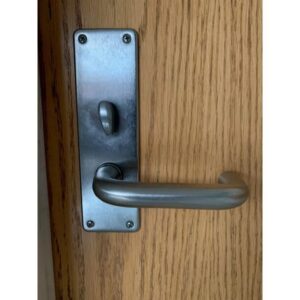 These photos show locks on panic hardware in classrooms with single and double doors. These have easy to follow directions on them. Turn the thumb latch and lock status will be displayed (locked or unlocked).